Our History and Future
Our history has opened doors for future growth!
Incorporated on June 30, 1869, Franklin Savings Bank has been a mainstay in Central NH for over 150 years. We started small, opening our doors for business on October 1, 1869, with a single employee, Nathaniel H. Sanborn. Our first business was transacted on opening day with a $10 deposit; our first loan was made on October 18th in the amount of $225.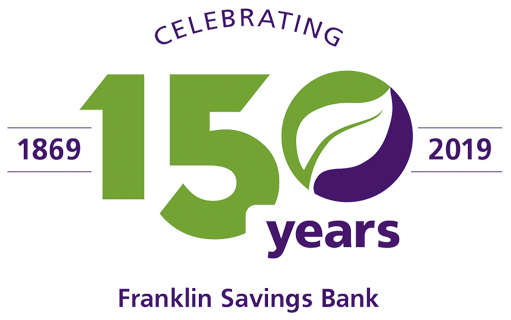 Throughout the years, our Bank has grown from a single employee to five employees in 1913, twelve employees at our 100th anniversary in 1969, and to our current team of over 120 employees.
The first Franklin Savings Bank location was in Sanborn's Store at the intersection of East Bow and Central Streets in downtown Franklin. In the spring of 1886, construction of the new bank building occupied by Franklin Savings Bank and the Franklin National Bank began. On April 1, 1961, construction of the pink granite facing took place. In the fall of 1994, Franklin Savings Bank purchased the former Franklin National Bank (First NH Bank) building and performed renovations to join the two buildings as one.
In addition to the expansion of the Main Office, the bank expanded its branch network to seven full-service locations and a business lending office based upon the following timeline:
April 1982: the first FSB branch office opened for business on Upper Central Street in Franklin
June 1985: FSB's Bristol Office opened its doors to serve customers in the former Public Service Company building on Lake Street in

 

Bristol
January 1999: at the corner of Routes 3 & 11 at Exit 20 located off I-93, the bank opened its

 

Tilton Office
August 1999: customers began enjoying 24/7 banking convenience with Online Banking
January 2003: FSB opened its fourth full-service office on King Street in the Town of

 

Boscawen 
May 2007: Franklin Savings Bank opened a new office building just off the bypass on Route 11A in the Village of

 

Gilford
April 2012: the bank opened a Lending Office in Coldstream Park in

 

Bedford; which was later relocated in April 2015 to Bedford Commons
September 2016: The bank unveiled a new logo and tagline,

 

Smarter Banking. Easier Living.
September 2017: Franklin Savings Bank opened a full-service office located on Dobson Way in

 

Merrimack
Independence Financial Advisors (IFA) became part of the Franklin Savings Bank family in September of 2002 when FSB purchased the company from three principal owners: Granite Bank, Village Bank & Trust, and St. Mary's Bank. Originally established as Independence Trust Company, in June 2011, the company restructured from a trust company to a registered investment advisory firm. This change provided a more suitable structure to serve clients. The purchase of GML Financial Advisors (located in Rochester, NH) in December of 2014 provided IFA greater resources to serve clients in broader markets across the state.
Technology. Knowledge. Mutuality. Franklin Savings Bank will continue to grow through our pursuit of becoming the preeminent source for individuals and businesses seeking smarter financial solutions from one of the oldest community banks in the Granite State. Our continued commitment and focus to investing in the latest technology has earned us a reputation for being a leader in offering convenient solutions to make banking easier and convenient. After all, smarter banking does provide easier living. We are sure of it! Our team of talented professionals have the knowledge and experience to provide our customers with guidance and advice. And, our passion to serving our customers and the community is what makes us proud to be a mutually-owned, community bank! Here for you today, tomorrow and in the future.
Our Commitment to Community
Franklin Savings Bank is a true community partner. As a mutually-owned, community bank, we are proud to support the community beyond offering loans and attractive rates. In fact, we feel a true community partner is one who has a vested interest in seeing their community prosper and thrive. Without our support, many of our local organizations would not be able to continue their causes.
Providing donations is important; however, we like to become involved in the projects we support to ensure they meet the needs of our community. Therefore, in 1997, we created the FSB Fund for Community Advancement with the sole purpose of supporting projects that will improve the well-being of individuals throughout the Central Lakes Region and into the southern region of New Hampshire. To date, we are pleased to have awarded 248 grants totaling over $1,135,809 to numerous community organizations. A few notable projects include supporting the Boys & Girls Club of Greater Concord with providing a safe, fun and educational environment for the youth at their Franklin Club; assisting the Tilton-Northfield Recreation Council with maintaining a reliable, hospitable environment at the Pines Community Center; helping Got Lunch! Laconia with providing dairy vouchers for their summer lunch program; supporting Newfound Area Nursing Association with making renovations and energy-saving improvements to their facility; and assisting the Holy Trinity Day Away Program with their Alzheimer's Respite Program. We understand what it means to be a community bank and our employees do too! That's why our employees spend countless hours volunteering their time to serve the needs of our community. Their passion is inspiring!
Another example of FSB's commitment to supporting the community is our investment in higher education through the creation of the FSB Scholarship Fund. Founded in 1994, the FSB Scholarship Fund assists high school students in our market area achieve their dream of attending college or a trade school after graduation. We are pleased to have awarded 680 scholarships totaling $377,979 since we started the Scholarship Fund. We understand the importance of investing in our future leaders who will one day start a business, purchase a home, or create an investment portfolio.
We would love to hear about your community project and how we can become your community partner! Give us a call at 800.372.4445, 603.934.4445, chat with us online, or send us an e-mail at

 

mybanker@fsbnh.bank.
Switching Banks
Is As Easy As 1.2.3